Smart Homes – Bringing Your Home Into the 21st Century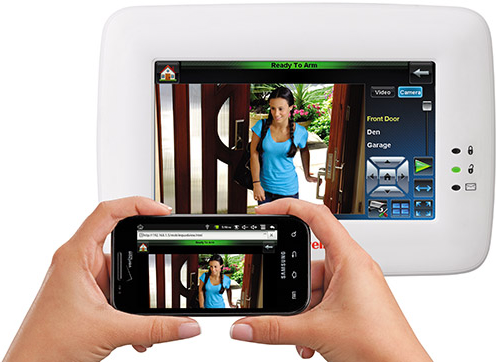 May 19, 2017
Blog
0 Comment
The benefits to smart homes are profuse and have led many people to install smart home systems which enable them to take a new level of control over their home's components, from cooling and heating systems to security systems and more. While smart homes are now being designed and built from scratch, most Australian homeowners with an interest in smart home systems will be adding components to their existing properties, not building a brand-new, fully-automated home.
At Smart Security, we offer the Tuxedo Touch system from Honeywell Security, a leading home automation system that will revolutionise the way you control and live in your home. If you're considering installing a smart home system, this is an automation package that delivers a phenomenal range of benefits, including:
A smart home system that's integrated with your home security system, including CCTV cameras, enables you to take your home security to the next level. Once integrated, you'll be able to view all the cameras around your home with the 7″ touch screen Tuxedo Keypad in real time from wherever you are at home. And once you've integrated it with your smartphone, tablet, laptop or compatible device, you'll be able to view the CCTV camera feeds from work or while you're away on holiday.
What's more, as you can control other systems in your home, like the lighting, for example, if you're away and you want to give the impression that you're at home, you can turn the lights on and off.
The convenience that smart home systems deliver is usually the biggest reason why homeowners have these systems installed at home. By delivering remote access to the systems in the home, users can control the lighting, heating, cooling, music and see who's at the door without having to get up.
You can even communicate with others in different rooms and areas of the home and program your system so that it turns everything on when you arrive home and off when you leave. This also has the effect of delivering peace of mind in that you know everything is switched off when you leave the house. And as these systems can be easily programmed to suit your lifestyle and needs, your life at home will become much more convenient as a result and you'll have more time for other things.
Smart home systems will pay for themselves over time by delivering enhanced energy-efficiency via automation which translates into lower energy bills for homeowners. For example, the lights will turn off automatically if no one is using a room or space and the air-conditioning can be lowered, raised or switched off entirely in a particular room without affecting the temperature in other areas.
While automation helps to deliver better energy-efficiency and reduce energy bills, this is further aided by the use of energy-efficient appliances, which is how components compatible with lifestyle-enhancing smart home systems tend to be, i.e. modern, energy-efficient, high-performance and feature-packed. This not only has benefits for residents but also the environment, so by installing a smart home system, you'll also be reducing your carbon footprint.
Accessibility is a major benefit in that you can access all the systems and components of your home with the touchpad, your smartphone and even through web-enabled televisions, but it's also a benefit in that with compatible locks installed, you can lock and unlock the doors without having to physically touch them.
This means you can check the camera at the front door and let someone in without having to walk there and it also enables you to let family and friends in when you're not at home. If you're worried about having multiple sets of keys and what would happen if someone lost a set, having a smart home system installed eliminates the potential for problems. As having new locks installed would be costly, the investment made in a home smart system delivers economic benefits in many regards.
As every home is an investment, one in which ongoing investments need to be made to increase the equity, automating the home with a smart home system is an excellent way to increase its resale value as well as the ease in which a future buyer will be found. Naturally, the components of a home automation system installed now will need to be replaced within the next twenty years, but automating it now will have a positive effect on its value in the future while delivering benefits in the present.
The Tuxedo Touch from Honeywell Security is an excellent means of automating your home, enhancing the lifestyle you enjoy there and improving the value of your home. To learn more about this leading smart home system, its features and its benefits, visit us at our showroom in East Victoria Park or give Smart Security a call on 08 9470 2887 to speak to a member of the team.