Wireless Security Products Expected To Hit USD $32 Billion By 2019
September 18, 2018
Blog
0 Comment
According to a study conducted by market research company Technavio, the popularity of integrated packages and customised home security solutions will contribute to the growth of wireless security sector by 2019. Moreover, the wireless residential security sector is anticipated to earn an estimated revenue of nearly USD $32 billion.
According to Technavio IT security research lead analyst Amrita Choudhury, the growth is fueled by the creation of tailored solutions provided by residential security systems providers for different customer needs. These customised solutions include indoor wireless motion detectors, temperature adjustment via remote control, and smartphone use for entry and door lock. Other increasingly technological innovations in the wireless home security industry include intruder sensor and alerts, pet monitoring, and infant monitoring—all of which can now be accessed via tablets and smartphones. The increasing demand in wireless security solutions can be attributed to these residential security innovations.
Security Cameras: Still the Number One Wireless Home Security Product
When it comes to wireless residential home security solutions, security cameras still remain the best-selling security product. Its estimated revenue is anticipated to reach USD $7.59 billion in 2019. This healthy growth in revenue is attributed to the different variations and innovations in home security cameras that match the customers' varying needs. These innovations include rechargeable batteries, WiFi integration, and connectivity to iOS and Android via apps. Moreover, usage of security apps will grow thanks to developments such as motion detection and alerts, as well as security cameras with two-way talk function.
One area which security camera manufacturers had improved over the years is video quality. Better video quality, which allows for the elimination of blurriness and lag times, is a major driver in the steady growth of security camera revenue. Security cameras are commonly available in 720p, but some manufacturers are able to fine-tune video resolution up to 1080p.
Today's homeowners have the choice to store video footage in microSD cards or on the cloud. Other exciting innovations include fisheye lens, a wider field of view, and relatively easy adjustment of settings.
Innovations in the Electronic and Smart Locks Sector
Following closely behind security cameras are electronic and smart locks. These residential security innovations are the second biggest contributor of revenue to the residential security market. The growth is attributed to the development of modern and more reliable electromechanical and smart locks. More homeowners are now shifting from the usual mechanical door locks (conventional doorknobs and deadbolts) to door automation which provides more reliable security against intruders.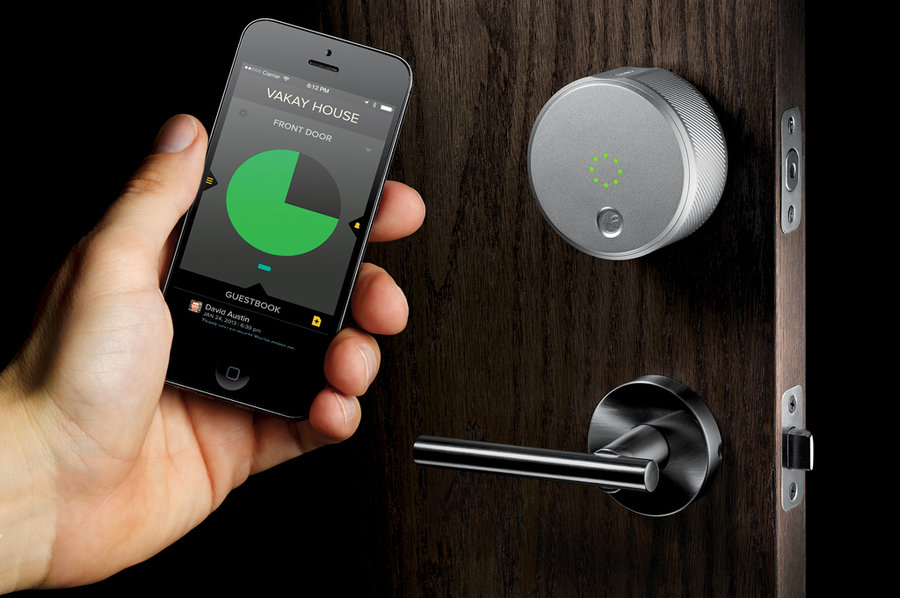 Integration is also becoming a buzzword in the industry. There is an increasing demand for the integration of smart locks into other residential security systems. As a response to the demand, security system providers are combining and expanding their offerings to ensure that these are easily integrated into different platforms. Gone are the days that residential security system providers work alone. Today, there is an increased collaboration with hardware stores, locksmiths, lock wholesalers, and other such sectors to ensure that their technicians are able to provide not only installation services but also reliable customer service. According to the study, energy-efficient products are also in demand. Moreover, the increased popularity of the internet of things and connected homes has fueled the growth of electronic and smart locks.
Other Exciting Security Products: Detectors and Sensors
According to the study conducted by Technavio, detectors and sensors will also see an increase in revenue in the coming year. This growth will be fueled by tech-savvy residential property owners who want to deter burglars and other unwanted intruders from entering their homes. To this end, motion sensors, glass break sensors, and entryway sensors are increasingly on-demand.
Wireless sensors that are integrated with the home's doorbell and smart multiple sensors are two of the most popular products recently developed in this segment. A number of wireless sensors can now be connected to and used with doorbells during an intrusion. Another exciting innovation is the sensors that can detect intrusion through a change in temperature and movement on the door and windows. This can be used with a smartphone, and alerts are delivered via an app.
According to Technavio, detector and sensor manufacturers and stakeholders are playing catch-up as this segment is set to grow steadily in the coming years.